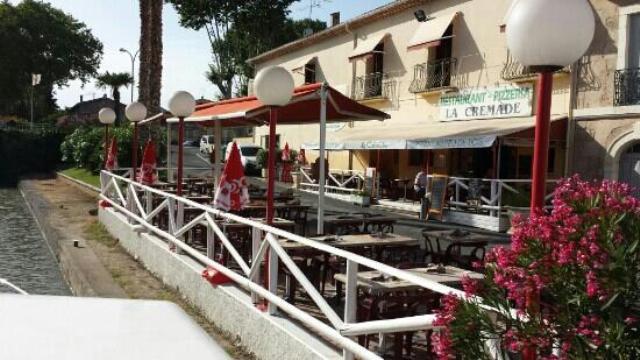 LA CREMADE
Pizzeria , Mediterranean cuisine , Traditional cuisine , Restaurant
in Villeneuve-lès-Béziers
This restaurant-pizzeria serves salads, grilled meat and fish, pasta, pizzas cooked over a wood fire and a varied menu. A beautiful terrace on the edge of the water in the summer: outstanding view over the stunning canal du midi. Open every evening except Wednesday.
From

January 1, 2021




until

May 18, 2021

From

May 19, 2021




until

June 8, 2021

From

June 9, 2021




until

September 30, 2021
Closed on monday, on tuesday, on wednesday, on thursday, on friday, on saturday and on sunday.

Fermé pendant cette période.
Wednesday

12:00 PM

2:00 PM

Thursday

12:00 PM

2:00 PM

Saturday

12:00 PM

2:00 PM
Monday

12:00 PM - 2:00 PM

7:00 PM - 10:00 PM

Tuesday

12:00 PM - 2:00 PM

7:00 PM - 10:00 PM

Thursday

12:00 PM - 2:00 PM

7:00 PM - 10:00 PM

Friday

12:00 PM - 2:00 PM

7:00 PM - 10:00 PM

Saturday

12:00 PM - 2:00 PM

7:00 PM - 10:00 PM

Sunday

12:00 PM - 2:00 PM

7:00 PM - 10:00 PM